Meetings of Historic Prince William
Historic Prince William meets in the evenings several times a year. Our meetings are typically informal lectures or discussions. The audience gets a chance to ask questions and share personal experiences about historic events and places in the county. Meetings are free and open to the public - please come and join us.
2018 Programs
Tuesday, May 28th, 2019, 7:30pm

The history and restoration of White Hall Cemetery in Nokesville with David Cuff and Robert Moser View Flyer
Past Programs
March 26, 2019 - Sears, Roebuck & co., Julius Rosenwald and Black Schools in Prince William County with Dennis Van Derlaske
Jan. 29, 2019 - Sears, Roebuck & co., Julius Rosenwald and Black Schools in Prince William County with Dennis Van Derlaske (snowed out, pushed to March)
Nov. 27, 2018 - Lower County History and Grave Dowsing with Denny Wolstenholme
Sept. 29, 2018 - History of Central Prince William County, the role of Wolf Run Shoals, Davis Ford Road and Maps with Kim Brace
May 29, 2018 - Ancient Inhabitants of Virginia's Piedmont Region with Dennis DuBois
March 27, 2018 - Slavery, Abolition, and the Road to Civil War by Jim Bish
Jan. 30, 2018 - Scandal and Murder in 1872 Prince William County by Arwen Bicknell
Nov. 16, 2017 - Did You Know … ? Interesting And Little-known Stories From Prince William County History by Don Wilson
Sept. 21, 2017 - George Washington's Virginia by Dr. John Maass
May 25, 2017 - Post WWII Housing in Dale City by Brian M. Engelmann Ph.D.
Jan. 19, 2017 - Researching the Battle of Bristoe Station by Bill Backus
Nov. 17, 2016 - Williams Ordinary: New Information Discovered Through Dendrochronology by Sarah Nucci
Sept. 22, 2016 - Fight for Freedom: Prince William County in the Revolutionary War by Jim Bish
May 19, 2016 - History of the Elk Run Church by Ed Dandar
March 17, 2016 - Archaeology of Old Colchester by Megan Veness
January 21, 2016 - A Young Robert E. Lee by Ron Mayer
November 19, 2015 - The Road To Yorktown, by Dr. John Maass
September. 17 2015 - From "Colonial" to "Colonial Revival" - The Comforts of Home by Dennis VanDerlaske
May 21, 2015 - History of the Town of Occoquan by Earnie Porta, former mayor of Occoquan
March 19, 2015 - Archeology and Historic Sites of Interest in Prince William County by Justin S. Patton, RPA, Archaeologist for Prince William County
January 22, 2015 - George Washington's Connection to Prince William County by Jim Bish, chair of Historic Prince William
November 20, 2014 - History and Preservation of Chapman/Beverley Mill in Thoroughfare Gap by Frances Allshouse, Executive Director of the "Turn The Mill Around Campaign"
September 18, 2014 - History of Rippon Lodge (including preservation activities) by Rebecca "Becky" Super, site manager for Rippon Lodge Historic Site
March 20, 2014 - The Battle of Bristow by Ron Mayer
January 16, 2014 - They Found Him in The Wreck, His Hands on the Throttle by Dennis Vanderlaske
November 21, 2013 - The Revolutionary War Service of Light Horse Harry Lee by Michael Cecere
September 19, 2013 - They came wearing tartan;Scottish immigration and influence in Colonial Prince William County by Jim Bish
May 16, 2013 - Hell is Being a Republican in Virginia: The Postwar Relationship Between John Singleton Mosby and Ulysses S. Grant by David Geotz
March 14, 2013 - From Parchment to .PDF: The Hidden Historical Gems in Digitizing the Prince William County Records
January 17, 2013 - Prince William's "Light Horse Harry Lee," by Mike Cecere (cancelled due to weather)
November 8, 2012 - Did You Know? Interesting and Little-Known Stories from Prince William County History, by Don Wilson
October 13, 2012 - Kickoff Picnic and Brentsville School Reunion
Thursday, May 10, 2012 - Bacon Race Church and Cemetery by Darlene Hunter
Thursday, January 12, 2012 - The Bull Run II Campaign (2nd Manassas) and its importance in the Civil War by Ron Mayer
Saturday, March 10, 2012 - tour and talk at National Museum of the Marine Corps
Thursday, November 10, 2011 - Slavery and Slaveholding in Prince William County, 1810-1860 by Jim Bish
Thursday, September 8, 2011 - Early Religion at Brentsville by Morgan Breeden
(Mary Lipsey from the Fairfax County History Commission also gave a brief talk about Cemetery Preservation)
Field Trips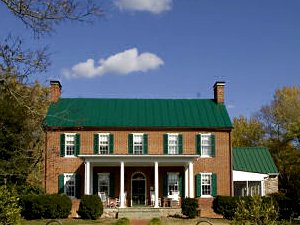 From time to time, meetings may be scheduled in buildings of historical interest, such as the Brentsville Courthouse, the Occoquan Town Hall, Rippon Lodge and the Manassas Museum.
Occasional field trips to historic sites in Prince William County usually involve carpooling on a Saturday morning to explore the Potomac Path, Civil War fortifications, historic schools and churches and cemeteries and houses and mills, etc. The "treks" outside the vehicles are gentle walks, not strenuous hikes. Often we have started at 9:30am (carpooling from the McCoart Center), and finish around lunchtime.
These go-to-the-actual-site visits look at history through a different lens. Some field trip may explore the not-yet-historic-but-it's-only-a-matter-of-time subdivisions of our county - like those in Marumsco, built by C. D. Hylton before Dale City. History is not frozen in time; it's still evolving in Prince William.
"We were right in it..."
That's how one participant described a trek, delighted that the mayor of Dumfries had arrived by chance while the Historic Prince William group was walking through the graveyard near the Weems-Botts Museum. The mayor stayed to talk, pointing out specific sites as he discussed events in Dumfries history. By participating on that trek, one person had a shiver go up his spine as he experienced history in a far-more intimate way that the traditional books and talks.
Field trips have included visits to:
Civil War fortifications off Bacon Race Road
Greenwood Presbyterian Church and the old gates near the entrance of Bel Air
Historic Dumfries walking tour, including the old cemetery, sites of the Quantico Church and the courthouse, and the Weems-Botts Museum
Limstrong's Corner (now, the Route 234/Prince William Parkway interchange has obscured the historic path taken by Thomas Jefferson through the county)
Neabsco Iron Works site on Powell's Creek
Occoquan, from the Merchants Mill upstream to the dam