About the Author
Thomas Triplett Russell, former president of the American Institution of Architecture and designer of the Coconut Grove, FL, library, died June 20, in Port Charlotte, FL. He was 89.
Born and reared in Baltimore, MD, Mr. Russell went to Miami in the late 1930's and became a partner in the architecture firm of Polevitsky and Russell.
His architecture career was interrupted with World War II, in which he served as an intelligence officer with the Eighth Air Force photo-reconnaissance division. He won a bronze star and retired from service as a major.
After the war, he returned to South Florida and resumed his 40-year career in architecture. Upon his retirement, he devoted most of his time to the study of the history of Northern Virginia, and Fauquier County in particular. His interest came naturally. His father, Stanislaus Russell, a Baltimore architect, was born near Orlean, as was his mother, Harriet Lewis Triplett Russell.
Among his works are an unpublished genealogy of the Triplett family of Virginia and an unpublished architectural survey of farm places of Fauquier County.
He co-authored with John K. Gott "Fauquier County in the Revolution" and "The Dixon Valley, Its First 250 Years." He also wrote unpublished histories of the Rappahannock Mountain, Great Meadow and Flint Hill Farm.
In 1993, Russell's entire library and manuscript collection was donated to the Fauquier Heritage Society.
His wife, Virginia, died in 1990. Besides his daughter, Susan, with whom he made his home, and a brother, he is survived by two grandsons and three great-grandchildren.
Published in the "Fauquier Times Democrat", Wednesday, July 12, 2000: T. TRIPLET RUSSELL WAS LOCAL HISTORIAN
Hazelwood and Truro, The Foote and Colvin Families
T. Triplett Russell, Miami Florida, 1979
The earliest records of the Foote family are in Cornwall in the southwest corner of England. Here, in the middle of the 17th century, lived John Foote, gentleman, who owned land at Cardinham, a small village 4 miles northeast of Bodmin, the county seat. He had, apparently, several children but we know the names of only two of them, Samuel and Richard. Samuel remained in Cornwall where his son, also Samuel, was mayor of Truro and later a member of Parliament from Teverton in Devonshire. His grandson, another Samuel Foote, 1720-1777, was the celebrated actor/dramatist who flourished on the London stage during the reign of George II.
Richard Foote, born at Cardenham 10 August 1632, went to London about 1650 to work in the office of Nicholas Hayward, a long established Virginia merchant on "the Virginia walk of the Exchange" who counted among his clients some of the most enterprising and successful of those adventurers who were building their fortunes in the Virginia Colony. In 1652 Nicholas Hayward decided to visit the colony. He took with him, as his assistants, his son Nicholas then barely, thirteen, and Richard Foote, then twenty. Their visit was apparently useful, but none of the three developed any great desire to live in this wild land, later to be called the Northern Neck of Virginia. Richard Foote did return once more, this time bringing with him Hayward's younger son, Samuel, then about sixteen. Young Samuel Hayward did like what he saw and either remained or returned shortly thereafter. About 1677, while in Virginia, he married Martha Washington, 1643-1697, daughter of the Reverend Lawrence and Amphillis (Twigden) Washington and sister of John and Lawrence Washington, the emigrants. Samuel Hayward stayed in Virginia where he was for years Clerk of the Stafford County Court and, in 1685, Burgess from Stafford. He had only one daughter, who died in childhood.
On the 19th of December 1657 Richard Foote married in London Hester Hayward, eldest daughter of Nicholas Hayward. Gradually he took over Hayward's business, leaving Nicholas Hayward and his son free to manage their enormous investments in America, all the way from Virginia to the Hudson Bay. In 1685, when the Edict of Nantes was revoked, Nicholas Hayward the younger saw an opportunity to answer the needs of the great number of French Huguenot refugees cast upon English shores and, incidently, make a substantial amount of money himself. He did not want to do it alone. Negotiations were necessary in Virginia as well as London, and the cost of transporting the prospective settlers would be large.
He therefore formed a syndicate consisting of his brother-in-law Richard Foote, George Brent of "Woodstock" in Virginia, and Robert Bristow. The Brents were a prominent Catholic family of "Lark Stoke", Gloucestershire, whence came Giles Brent and his sister, Margaret, early and somewhat troublesome settlers in Maryland. George Brent of "Woodstock" was a cousin of these two, who had settled in Virginia in 1660. In 1686 he was a Burgess from Stafford County, along with Samuel Hayward. His influence in Vabistawn was necessary to the project. The Haywards and Brents have known each other for a long time.
The fourth member of the syndicate; Robert Bristow of the Parish of St. Martins-in-the-Fields; Middlesex, was perhaps a somewhat reluctant participant in the scheme. He had been to Virginia and had established himself in Gloucester County. In 1676 he sat in the House of Burgesses, where he was a strong supporter of Sir William Berkeley during Bacon's Rebellion. As a result he was captdred, suffered severe personal indignity and lost the whole of his estate. In the summer of 1677 he returned to England, vowing never to set foot in Virginia again. However he continued in the Virginia trade and a successful merchant in London.
The first order of business was to find a suitable place to carry out this bold venture. Hayward first proposed a plantation on the Potomac he had picked up at a bargain, adjoining William Fitzhugh's "Bedford". Fitzhugh, aware that emigrants to Virginia required room to expand, readily convinced him that it was much too small. Hayward wanted to establish a new "hundred" such as "particular adventurers" had once set up in the James River valley in the days of the Virginia Company. The difficulty was in finding in tidewater Virginia so large a property at a reasonable price.
Fortunately Hayward knew that Thomas, Lord Culpeper, having recently bought out the other proprietors of the vast Northern Neck Grant, was in serious financial straits and had immense tracts of inland land, for which he had absolutely no buyers. A proposal to his Lordship resulted in a grant dated 10 January 1687 of:
"All that tract, Territory or parcel of Land Containing by estimation thirty thousand Acres be the same more or less, Scituate, lying and being in or near the said County of Stafford in Virginia aforesaid, Between the courses of the said two rivers, Rappahannock and Potowmack, backwards at least six miles Distant from the said main river and from any land already seated and inhabited, and upon and between the southwest and northeast branches of Ocaquan Creek and from thence toward the mountains."
This grant executed in London, was recorded in Stafford County 13 July 1687 by William Fitzhugh, attorney for Lord Culpeper, but has since been lost. The southwest branch of Occaquan is Cedar Run and the northeast branch is Broad Run, which establishes two boundaries, that is, supposing the main streams were considered then as they are today. There is considerable evidence to support the theory that the south boundary followed Cedar Run to its confluence with Elk Run, and then followed Elk Run. The back line is still uncertain. Thirty thousand acres indicates a back line from the neighborhood of Linton Hall on Broad Run to a point on Cedar Run near Weaversville. However later grants show that the back line was not a straight line and land said to have been derived from the original grant extend as far south as Town Run.
The difficulty with the Brenton (or Brent Town) grant was that it was, at the time, too remote. Furthermore the Shenandoah Path, the hunting path used by the Indians in their annual migration to the hunting grounds in the Carolinas, crossed its southwest corner. The land was fertile, well drained, and became splendid farmland, but that was not enough to lure the Huguenot emigrants. Broadsides were circulated in the coffee houses of Soho, St. Giles and Spitalfields, where the refugees gathered, luring them to the Carolinas, land of fruit and flowers. William Penn offered to seat them in luxury in his "lower counties" on the De la Ware. Massachussetts thought they would be happy there. Some came, but not enough.
Hayward and his associates assured prospective emigrants that the land "was healthy, good and fertile, producing all sorts of grains grown in Europe such as wheat, rye, oats, etc., vines and all sorts of fruits, and that the water is excellent." They offered 100 acre farms and one acre in the "Town" for a house for which they offered sufficient nails and other hardware to build one 26 to 28 feet long and 14 to 16 feet wide. Cie young man who did decide to take up the offer was Jean de la Chaumette, born in France in 1663 who, according to the Maryland Gazette, 17 October 1766, "was imported to Virginia to settle Brent Town lands." He was the progenitor of the well-known Shumate family of Fauquier County.
The thought of Indians skulking in the woods at Brent Town provided a sufficient deterrent to the development of upper Stafford County until Governor Spotswood negotiated the Treaty of Albany in September 1722. Under the terms of that treaty the Iroquois agreed to keep their "young men" an the west side of the Blue Ridge. George Brent had had several ideas for developing it before that, including providing a refuge for Catholic supporters of James II, and had built a blockhouse an the western boundary, but nothing worked very well. With the Treaty of Albany, though, the upper county was open to settlement.
Nicholas Hayward, the younger, died in 1698 leaving no heirs who were especially interested in their Virginia property. His son, Samuel Hayward, then his Majesty's Consul to the Venetian islands in the Levant residing at Zante off the coast of Greece, deeded his share of the Brent Town tract to Henry Fitzhugh of "Bedford", Stafford County. George Brent of "Woodstock" died in 1694. His share of the Brent Town tract passed through the hands of his four sans and finally to William Brent, great grandson of Giles Brent. This young men, born in 1710, inherited most of the Brent property in Virginia, but was more preoccupied in establishing his claim to about half of Maryland through the rights of his great-grandmother, Kittamaqund, daughter of Kittamachen, Tayac of Piscataway. Robert Bristow died in London in 1707 leaving heirs who seem to have been completely indifferent to the fate of their Virginia land.
The heirs of Richard Foote were by no means indifferent. Richard and Hester (Hayward) Foote had fourteen children of wham half died in childbirth or early childhood. The eldest son, Samuel, was the principal heir and died at Windsor in 1697. The next son, John, died in Jamaica in 1692. The next two sons, Richard and George were sent to Virginia in 1685 when the Brent Town grant was signed, presumably under the protection of their uncle, Samuel Hayward. Richard was nineteen years old and George twelve. When Samuel Hayward died in 1696, Richard Foote was thirty and George had, apparently died, as he drops from the records.
Much as he may have liked to do so, Richard Foote made no attempt to live at Brent Town. He established himself at "Cedar Grove" in Chotank Parish in lower Stafford County. He married, about 1702, Elizabeth. In 1701 he was a Justice of Stafford County and died in 1729 at the age of sixty-three. He had five Richard, George, John, Hester and Elizabeth. John never married and apparently died young. Hester married, 17 August 1727, Captain John Grant of Stafford County. There is no further record of Elizabeth Foote. It was left to his two oldest sons, Richard and George to develops the Foote estate at Brent Town.
Until l734 the Brent Town grant was a single legal entity owned jointly by the heirs of four separate estates who were scattered over half the world. Obviously a division of the property was called for, as none of them could sell any part with certainty that it was his. Richard Foote deeded Henry Fitzhugh 1,000 acres but it was uncertain whether the same or any part thereof may be alloted to ar fall within the share of the said Richard Foote when the said thirty thousand acres come to be divided among the several propreitors thereof." He gave an indemnifying bond which was released in 1741 as Brent Town had been "lately divided among the several proprietors."
No plat of this division has come down to us but later deeds indicate that the land was divided into roughly four equal parts. The Bristows got the northwest quarter around present Bristow Station. The Brents settled for the northeast quarter. The Haywards and Footes took the southern half. On August 14th, 1741, the last of the Hayward heirs deeded his share to Henry Fitzhugh. The division between the Foote and Fitzhugh land grows more complicated by reason of the fact that part of the Hayward quarter was Richard Poote's by inheritance from his grandmother, Hester (Hayward) Foote. However it seems that the Foote lands lay to the south and that most of the Fitzhugh purchase was north of them. At the time of the division all of this land was in Prince William County (created 1731). When Fauquier County was created in 1759, the new boundary cut through the Fitzhugh lands, as well as the Foote's.
Richard Foote of" "Cedar Grove", 1704-post )1762, was zealous in promoting his Brent Town property but continued to live in St. Paul's Parish (or Chotank). He was a Justice of Stafford County in 1745. On the 6th of August, 1726 he married Katherine Fossaker, daughter of Richard Fossaker. Her sister, Sarah, was the wife of Robert Washington, son of John and Mary (Townsend) Washington of Chotank Plantation. Richard Fossaker lived on Mattox Creek in Westmoreland County.
When the County of Fairfax was lopped off of Prince William it was realized that the old Prince William County Courthouse was not conveniently located for the majority of the inhabitants. Richard Foote promptly offered his land as a site for a new court­house. In the Council Journal it is noted "19 June 1742. Ordered that the courthouse of Prince William be at a place called Brent Town, belonging to Richard Foote." The Governor thought better of the idea and, upon advice, selected a place south of the Brent Town grant in the forks of the Dumfries Road an the plantation of Philemon Waters. Though, Richard Foote was doubtless disappointed by this decision, he knew that his land in Prince William County was some of the finest farmland in Virginia and that, in time, that fact would be appreciated. He sent an overseer there with negroes to clear the land and start planting. An overseer's house was built and cabins for the workers. It is doubtful if anything built at this early date is still standing but, as we will see later, one possibility exists.
The Bristows and Brents, both absentee landlords, were content to sell their inheritance in small one and three hundred acre farms, but the Footes and Fitzhughs had no such aims. They visualized their Brent Town acres as a group of large estates, with stately manor houses, gardens in the English manner, woodland and endless rolling fields and pastures. Here life could be lived as it had been in Chotank by the descendants of families of wealth and culture. George Fitzhugh of Caroline County, who was born there, writes in 1860, "Brent Town was a sort of colony of Chotank. When we lived there all the people were Chotankers by descent. Like their Chotank ancestors, their hearts were bigger than their purses."
Even Robert "King Carter had some hesitancy about transgressing the somewhat uncertain borders of Brent Town. In 1723 he wrote Colonel Cage, trustee of the Fairfax Proprietary, "I shall find a great deal of difficulty in laying off the Branton Grant. I have given some public notice about it. Young Brent and his Mother declare if I offer to strech a chain there, they will stop me. I must try whether they will be so good as their words. If they do, I shall go near to call them before their betters." "Young Brent" was William Brent of "Richland", 1710-1742, and his mother was the formidable Sarah Gibbons, then the wife of the Reverend Alexander Scott. Later deeds show that "young Brent and his Mother" continued to be a problem as they were made subject to the Brenton Grant, the boundaries of which were not precisely established.
At the time of the division of the Brent Town Tract it had certainly been the intention of the Lord Proprietor and presumably of the heirs themselves that the division be abiclutely equal, 7,500 acres to each family. On this assumption, the second Richard Foote, of "Cedar Grove" made his will. He set aside 800 acres so that his two daughters, Hester (Foote) Grant and Elizabeth. Foote would each receive 400 acres "in fee tail". The remaining 6,700 acres was to be equally divided betwein his three sons Richard, George and John. The third Richard Foote, as executor of his father's estate, partitioned off 2,233 acres, while he deeded to his brother George Foote. This land is now in Fauquier County.
John Foote died young, intestate and childless. His share, under the terms of his father's will, reverted to his brother Richard. It was then discovered, upon resurvey, that the Brent Town Trac, had not been equally divided and that an error of the, original surveyor had short-changed the Foote dividend by some 1,450 acres, mostly in favor of the Brents. Richard Foote appealed to the Brent heirs for a resurvey of the entire property and restitution of his property. The Brents, with customary intransigence, refused. Lord Fairfax confirmed that and equal division was his understemding, but declined taking an active interest in the dispute. He, too, was wary of the Brents, whose acquisitiveness was notorious. Richard Foote was compelled to sue young William Brent in the Chancery Court to recover his land. Then as now, a suit in chancery could take forever.
The situation was further complicated by the death of his brother, George Foote, in 1759. The latter was unaware of any discrepancy in the original survey and, during his lifetime by deed and in his will dated 31 May 1759 had disposed of his entire 2,233 acre estate. The land was divided between his five sons, George, Gilson, Henry, Richard and William Foote. Furthermore young Henry Foote had sold his share to the Reverend William Stuart, husband of his aunt Sarah (Foote) Stuart of "Cedar Grove". All ok this is related in a long and interesting document, dated 20 November 1762, filed in Fauquier County. In it the third Richard Foote attempted to secure part of his brother's land as overpayment of an inheritance. His claim was submitted to arbitration. Rather than upset the many deeds based an the original one from Richard Foote to George Foote, the arbitrators allowed Richard Foote 1.100 for his claim, pending the outcome of the suit against the Brent estate.
The third Richard Foote began building Truro Plantation on the banks of Cedar Run about 1745. We do not know what the mansion house looked like. It is said to have been destroyed by Union troops during the Civil War, and not enough remains of its foundation to make a reasonably accurate reconstruction. The site was beautiful, and still is. He visited it from time to time to check on its progress until his death after 1762.
In the survey of the dividing line between Prince William and Fauquier Counties made in 1759 by Bertram Ewell, there is a house on the south side of Cedar Run, in Fauqmier County, marked "'Mrs. Foot's". This was the home of Mrs. Mary (James) Foote, second wife and widow of George Foote, whose will was recorded in Fauquier County 28 June 1759. South of it is "William Foot's", presumably his son, was then only four years old. The home of John Fitzhugh is north of Cedar Run on the Fauquier side. On the Prince William side is the home if Thomas Fitzhugh, (Pilgrim's Rest) and, to the south of it, Richard Foote's "Truro".
In the Prince William County Deed Books is a deed dated in 1749. It is from Robert and Winifred (McCarty) Massey of Stafford County to Philip Alexander of St. Paul's Parish, Stafford County for land in Dettingen Parish an the south branch of Slaty Run. It was, according to the deed, "1,050 acres of Brent Town, lately belonging to Samuel Hayward, Esq., his Majesty's Consul in the Levant, and conveyed by deed to Robert Massey, according to a survey by John Savage, 3 May 1742. The land adjoined that purchased by Henry Fitzhugh of "Bedford" from Samuel Hayward about the same time. Under the will of Philip Alexander, dated 4 August 1753, he provided that his sons Philip and William divide 1,075 acres in Brent Town, bought of Richard Foote, attorney for Samuel Hayward. As the sons were under age, he also provided that they be bound out to a doctor, lawyer or a county clerk. He named as executors Richard Bernard, Richard Foote, Colonel Henry Fitzhugh, the Reverend William Stuart, his wife Sarah (Hooe) Alexander and his eldest son, John.
The youthful William Alexander, 1744-1814, married, 18 April 1765, Robert Massey's niece, Sigismunda Mary Massey, daughter of Sigismund and Mary (Stuart) Massey of St. Paul's Parish. On William Alexander's share of the Hayward dividend they built "Effingham".
Although this is primarily a history of "Truro",it is not amiss to say a few words about "Effingham", which stands today and was, at one time another Foote plantation. A W.P.A. writer in the 1940s described "Effingham" as "a small mansion well beyond its prime." He must have been having a very bad day. It may have been well beyond its prime, but the grand plan of the Effingham estate is magnificent. The house is frame, but of noble proportions with a pair of splendid brick chimneys at each end. (There is no good building stone in that part of Prince County). As was true of all the early plantation houses, when fear of fire was a paramount consideration, it contained only the family sleeping quarters, rooms for a few house servants and, of course, the parlour, dining roam and family living room. The only interior carved panelling and Ornament now remaining is in the central hall and it gives an impressive suggestion of what the entire interior must have been like. The stairway is enclosed. Heating was far too great a problem in these early houses to permit a great open stair bell.
The pride of Effingham was in its numerous outbuildings laid out in an elaborate plan, some of which can be traced today. There were no less than twenty-three. In addition to barns, stables, coach house and other buildings necessary for farming, there was a weaver's house, tannery, blacksmith's forge, greenhouse, smoke house, ice house and an estate office. The kitchen was in a separate building connected to the main house by an arcade somewhat in the manner of Mount Vernon. The forge is built of a peculiar salmon colored stone that must have been brought from some distance. School was conducted in the attic of the main house, as markings on the panelling indicate.
Slave quarters were numerous. In 1782 Colonel William Alexander had forty-two, not counting small children or those too old to work. There was a burial ground securely walled which is today in fair condition. South of the house are the remains of terraced gardens descending to Cedar Run.
"Truro", built earlier, may not have had so ambitious a plan, but it must have been somewhat similar. One of its outbuildings, possibly the original overseer's house appears to have been incorporated in "Hazelwood" which will be described later. There is a beautifully preserved log cabin at "Hazelwood" with an enormous chimney, that appears to date from the middle 18th century.
Richard and Katherine (Fossaker) Foote had ten children as follow, in order of their births:
William, born 31 October 1727, died 7 June 1729.
Richard, born 3 February 1729; died between 28 August 1778 and 3 May 1779. As eldest son he inherited "Truro", where he died., His history will follow later.
Sarah, born 29 January 1733; died ante 1796. She married 26 Nov-
ember 1750, the Reverend William Stuart, Rector of St. Paul's Parish. She inherited "Cedar Grove" the home place in Chotank. Several of her children are mentioned later.
John, born 30 November 1735. He died young and without issue.
Henry, born 11 April 1738. There is no farther record of this young man. He may also have died young.
Catherine, born 24 November 1740, died 1799. She married 5 October 1774 at the age of 34, Lawrence Washington, 1740-1799. He was a son-of Captain Townshend and Elizabeth (Lund) Wash­ington of "Green Hill", located at the head of Chotank Creek.
Lund Washington, a nephew of Lawrence Washington, gives us a curious story about this marriage.
"Be told me that he was engaged to his wife 14 years before he married her, during which time he could have married her whenever he pleased, but did not choose to ask her father's consent, and therefore waited his death, and then immediately married. I have since been informed that he did not ask Mr. Foote's consent because he knew it would be refused on account of their near relationship, being the children of sisters."
It is known that Katherine (Fossaker) Foote's sister Sarah Fossaker married Robert, not Townshend Washington. Was Lawrence Washington suggesting that Elizabeth Lund was Kath­erine Fossaker's half-sister? If not, what was he suggesting?
Lawrence and Catherine (Foote) Washington lived at "Belmont" on Belmont Bay, Fairfax County. They had no children.
A son, born 5 October 1743. The entry in the Parish Register is torn, so we do not know his name. He died in infancy.
Elizabeth, born 10 December 1746; died 1812. She married, in November 1779, when she was 33, her cousin Lund Washington, brother of Lawrence Washington named above. At the time of their marriage Lund Washington was managing the "Mount Vernon" estate in the absence of its owner. She went to live at "Mount Vernon" where her excessive piety drove the Custis children to open rebellion when their grandmother was absent. Lund and Elizabeth (Foote) Washington had three daughters in rapid suc­cession, all of whom died in infancy. After the war Lund Washington purchased land northwest of Mount Vernon and built "Hayfield", where he died in 1796.
George, born 6 March 1750; died in Fauquier County between 15 July 1775 and 27 November 1775. He married Celia Helm, daughter of Lynaugh and Hester (Edringtan) Helm of Lucky Run, Prince William County. They had two childrenrRichard Helm Foote, 1773-1818, who married his cousin, Jane Stuart, 15 December 1795. She was a daughter of the Reverend William and Sarah (Foote) Stuart of "Cedar Grove"; and Hester Foote, who married 12 Jan­uary 1799, William Edmonds of "Edmanium", Fauquier County.
Francis, born early in 1753 and died an the 12th of October of the same year.
Richard Foote, 1729-1779, the fourth of his name, was living at "Truro" before his father's death. He married Margaret Helm, elder sister of Celia Helm, who married his younger brother George. The marriage took place about 1766. In the 16 years before his death "Truro" was made into a beautiful estate, as his father had planned. It was he who enlarged the original log cabin at the site of "Hazelwood", adding a two storey wing with a massive chimney on a base 19 feet wide, enough to accommodate a deeply recessed window between the new and old fireplaces flanked by deep interior cupboards. Today the roof has a flat pitch, in marked contrast to the original structure, but that was an alteration made later to obtain a full second story without dormers. With this addition the house measured 21 feet 4 inches by about thirty feet.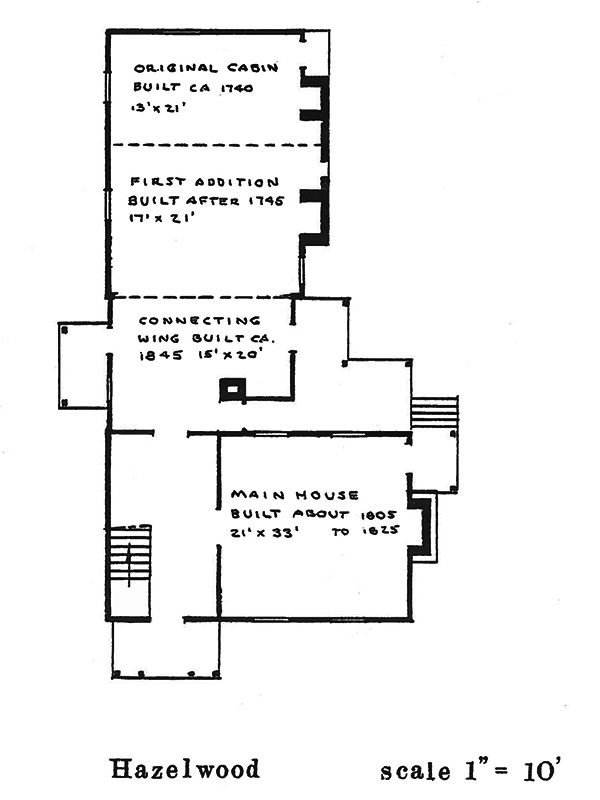 The fourth Richard Foote was a man of considerable ability, as fragmentary records in Prince William County show. It is a pity that he died before his fiftieth birthday. He wrote a will, dated 28 August 1778, which was submitted for probate in Prince William County 3 May 1779. Having married rather late, his five children were small. They were:
Richard, eldest son and heir, born 12 December 1768; died 1834. He was only 11 years old at the time of his father's death. He inherited "Truro". He was married three times and will be mentioned later in this history.
Catherine, born 1769; died 21 September 1831. She married John Stuart Alexander, born 5 April 1766, died 29 January 1800. They had three children: William Massey Alexander, born about 1790, died in childhood; Catherine Foote Alexander, born 18 Sep­tember 1793, died 18 March 1861. She married in 1809,.Dr. William Harrison Triplett, 1783-1856, youngest son of Colonel Simon and Martha_(Laae) Triplett of "Mount Pleasant", Lauda= Count. The third child was Lucinda Washington. Alexander, born 1795. She married Landon Carter and moved to Missouri.
John Stuart and Catherine (Foote) Alexander lived in Centreville, Fairfax County an a large property given him by his father, William Alexander of "Effingham". After her husband's death, she married James deMoville Lane, son of Captain William and Susan (Linton) Lane of "Farmer's Delight", Lauda= County. They moved to Front Royal, where she had two more children; Arthur Foote Lane and. Elizabeth Foote Lane. The latter died without having married and was buried at "Hayfield" in January 1836.
William Hayward, born 1770/71; died after 16 August 1846. He was only eight or nine years old when his father died. After his aunt, Elizabeth (Foote) Washington married and failed to have children of her own, she adopted her nephew William Hayward Foote. He went to live at "Hayfield" and was diligently on attendance on his aunt between the death of her husband in 1796 and her own death in 1812. He is the "Mr. Foote" mentioned frequently at the end of George Washington's diaries. He inherited "Hayfield" and married, when he was nearly 60 years old, Mary Marshall Scott, daughter of David Wilson Scott. He was an eccentric and colorful figure and left a will that is quoted to this day. He had no children.
Maria, born about 1773; died 1784. She was buried at "Truro".
Elizabeth, born about 1775 She later married Dr. James Chiro of Mississippi.
Not long after her husband's death Margaret (Helm) Foote married John Thornton Fitzhugh, born 29 September 1749; died 9 February 1809, a man twenty years younger than her first husband. He was a grandson of Colonel Henry Fitzhugh of "Bedford". He was the second son of John and Alice (Thornton) Fitzhugh of "Bellaire". His younger brother Thomas Fitzhugh, 1753-1829, married Margaret Helm's sister Lucinda Helm. Through his father John Thornton Fitzhugh had inherited a considerable part of the Brenton Grant, notably "Fairview", containing 1,500 acres, north of "Truro". The W.P.A. writer in the 1940s wrote that, at that time, "A large stone chimney stands at the south end of the dilapidated story-and­a-half frame house, and all the outbuildings have disappeared." In its day "Fairview" was a fine place. At "Fairview" is evidence that John Thornton Fitzhugh went to live at "Truro" until the fifth Richard Foote came of age. In the burying ground are the grave­stones of John Fitzhugh, "born at Truro in this neighborhood, January 6th, 1781, died February. 16th, 1870", and of his wife, Jane, "who departed this life 8th of November, 1821, age 36."
John Thornton and Margaret (Helm) Fitzhugh had five children, John, Lynaugh, Frank, George and Fanny, though it is improbable that all were born at "Truro". Richard Foote V reached his majority in December 1789 and his mother and step father probably moved to "Fairview". John Thornton Fitzhugh died 9 February 1809 and Richard's mother 13 February 1814. Maria Foote had died in 1784 and Catherine Foote married John Stuart Alexander about 1789. William Hayward Foote was eighteen and his aunt, Elizabeth (Foote) Washington thought it high time that he was removed from the pernicious influences at "bachelor hall". Drinking and gambling were anathema. "Poor dear Mr. Washington" was the best of husbands, though she still had trouble getting him to join her in family prayers morning and night. In October. 1789 she wrote "My God,- Thou past thought fit to take my dear Lucinda from me." This was her last child. Lund Washington was going blind. Into this dismal house young William Hayward Foote moved and after the death of Lund Washington in 1796, was the only male inhabitant except for his valet, Bob Foy.
In a volume of sermons discovered in Fredericksburg, called "The Backslider", Elizabeth (Foote) Washington wrote an the flyleaf:
"The year roals around and steals away
The Breath that first it gave;
Whatever we be, wherever we are
We're travelling to the grave."
The young man who had inherited "Truro" was headed in the same direction, but not so consciously. He did not marry until he was 35. His bride was his cousin, Helen Gibbons Stuart, daughter of the Reverend William and Sarah (Foote) Stuart of "Cedar Grove". They were married 12 December 1803.
It has long been a tradition that "Truro" was destroyed by Union troops during the Civil War but one is forced to question that tradition. Sometime between 1803 and 1825 (it is difficult to be more precise) Richard Foote V undertook the construction of a new house about fifteen feet in front of the enlarged cabin previously described. The house was of frame but of grand proportions. It measures 32 feet, 6 inches by 20 feet, 6 inches, but the design of the south front, which bears a resemblance to "Effingham", almost certainly contemplated a wing to the west which was never built. With the passion for symmetry prevalent at the time, it could hardly have been otherwise. The house would then have been 53 feet long. In its truncated state the house is still impressive, though it seems very tall for its length.
Over a high basement the first storey contains a magnificent parlour almost 20 feet square, with a ceiling 10 feet, 9 inches high. There is a handsome stair hall with a broad stairway reaching the full 12 feet in a single flight. Above the Parlour is a great bedroom of the same size with a ceiling almost as high. Above that is an immense attic under the steeply pitched roof. During the Civil War this attic may have seen more activity than the stately rooms below. A picture of the house taken in 1900 shows it very much as it was when completed, with two porticos covered by curious triangular gables, (only one of which remains). The enormously tall brick chimney was doubtless to be repeated at the other and of the house.
The new house was named "Hazelwood", indicating that "Truro" was still standing at the time of its completion.
Helen Gibbons (Stuart) Foote was the mother of all of Richard Foote's seven children. They were:
William Hayward, born 21 November 1805. Married: three children.
Richard Stuart, barn 6 March 1807. Died in childhood.
Sarah Stuart, born 24 June 1808. She married Dr. John B. Thornton.
Elizabeth Washington, born 23 December 1809. She married Dr. F. T. Cheves.
Hayward, born 14 June 1811; died 16 October 1879. He was a teacher. He married three times and died in Cayuga, Hinds County, Mississippi.
Helen Maria, born 16 September 1813. She died in childhood and was buried at "Truro".
William Stuart, born 1815. He married ______ Ragsdale and had three children
During or soon after the birth of the last child, Helen Gibbons (Stuart) Foote died. She was buried in the old Foote burying ground at "Hazelwood" alongside her father-in-law, the fourth Richard Foote, her husband's sister Maria, and her two children who died in childhood, Richard Stuart Foote and Helen Maria Foote. The last two graves were unmarked.
Richard Foote, with five young children on his hands, waited a respectable interval, and then remarried. His second wife was Lucy Taliaferro, 1781-1819, of the Taliaferro family long prominent in Caroline County. Unfortunately she lived only four years after her marriage, dying 12 March 1819, leaving no issue. On the 17th of June, 1826, Richard Foote married a third time. Her name is recorded as Ann Steward, but, considering the custom of the times, one wonder whether she, too, may had been a Stuart relative.
As the fifth Richard Foote grew older he was confronted by the fact that his children, both sons and married daughters, were searching for new opportunities in the west. Most of the Foote descendants moved west and prospered there. Henry Stuart Foote, 1800-1880, was senator and later governor of Mississippi. He was a grandson of George and Celia (Helm) Foote of Faquier. There would be no one to live at "Hazelwood" after his death. It is possible that he died there but, if so, his grave is not marked. He died in 1834. That same year "Hazelwood" was sold by his heir to George Colvin. At that time the estate had belonged to the Foote family for 157 years. For almost 100 years members of the Foote family had lived there. In 1834 it passed to the family that was to occupy it for the next 145 years, to the present day.
The new owner was George Colvin, who brought his bride to "Hazelwood". The ancestry of George Colvin has not been traced as minutely as has that of the Footes, but something is known of it. He was descended from an English family whose name was known in the lower counties of the Northern Neck in the 17th century. One Peter Colvin was in Northumberland County in 1668. By the time of the Revolution there were two related Colvin families established, one in Culpeper County, and another in the Catlett area of Fauquier County. The head of the latter family was Charles Colvin. He was, in all probability, the grandfather of George Colvin. He had several children, including two sons, Richard and William, both of whom married daughters of Benjamin George of Fauquier County.
It seems likely that George Colvin was the son of Richard Colvin who married, 3 September 1793, Lydia George. His name, therefore, was not a fairly common given name, but a family name of Revolutionary War note. Richard and Lydia (George) Colvin had a large family, but the names of only four are known at present. On the 11th of July 1820, Mary Colvin, daughter of Richard, married James Peters. His brother, Jesse Peters had married, 1 September 1817, Jane George, daughter of Benjamin George. On the 27th of November 1823, Margaret Colvin, daughter of Richard; married James Walker. Of several sons the only one identified is Charles May Colvin, born in 1819, who died in 1841 and is buried at "Hazelwood". George Colvin, himself, was born 17 February 1802.
He married, 18 April 1833, in Fauquier County, Mary A. Gaines, daughter of Richard H. and Elizabeth (Brady) Gaines. She was born 19 July 1813. The Gaines family had also been in Virginia for many generations. It was established in Old Rappahannock (now Essex) County by Captain Daniel Gaines (ca. 1640-184). The family was, perhaps, better known in Culpeper County, where they had large holdings. The following year the young couple moved to Hazelwood Plantation where their first son was born in 1835.
From later events we know the sort of man George Colvin was, a man of deep faith and abiding courage. He had confidence in his God, his country and himself. His Revolutionary forebears had instilled in him patriotism and a great sympathy for those denied their freedom. Along with many young Americans, he felt a profound empathy with the young Greeks in their war for independence from Turkish rule which raged in the 1820s. Their leaders were a splendid pair of brothers. Alexander and Demetrios Ypsilanti, whose heroic deeds filled the American newspapers. When Demetrious Ypsilanti met an untimely death in 1832 at the age of 47, half the nation mourned. George Colvin named his eldest son, born 29 September 1835, Demetrios Thornton Colvin. He too, would die in battle.
The next two sons of George and Mary (Gaines) Colvin were given more conventional names. They were Richard H., born 20 February 1839, and George Marion, born 18 February 1840. Then followed a daughter, Rodella Elizabeth, born 18 March 1842, who died in infancy. The next son, born 10 December, 1845, bore another name taken from a contemporary hero. He was named for John Caldwell Calhoun, the brilliant South Carolinian, whose impassioned oratory in the United States Senate had established him as the chief spokesman for the South and the doctrine of States Rights. It is easy to judge the tenor of George Colvin's thinking at that time.
There were two more children, Charles May Colvin, born 17 July 1851, and an unnamed child who died at birth.
In the years before the disastrous war that would bring the world of George Colvin down to defeat, life was pleasant at "Hazelwood". Then his five strapping sons were growing to manhood, sometimes neglecting their books, as all boys do, when lured aside by the pleasures of the hunt and the simple joys of being alive in the beautiful, gently rolling land. They learned to ride like centaurs and to shoot with deadly effect. In the spring of 1861 they were ready, and had chosen their side. The three eldest, Demetrious aged 26, Richard, then 22, and George, 21, enlisted immediately. John Calhoun Colvin was only 16. Family tradition declares that he too, signed up, but not with the knowledge of anyone in authority. Records show that, at that time, volunteers under 18 were returned to their parents. Young Charles May Colvin was only ten.
Of the first three of these splendid young men, none was to return. We do not know anything of Demetrious Colvin's military service except that he met death early in the war in some forgotten skirmish. Richard H. Colvin enlisted at Brentsville 23 April 1861 in Company "A" of the 4th Virginia Cavalry that became so famous under the brilliant command of General James Ewell Brown Stuart. He was 3rd sergeant when he was killed at Cold Harbor in 1864. George Marion Colvin enlisted at Brentsville the same day, in the same company. According to his gravestone in the old family cemetery at "Hazelwood", he attained the rank of 1st Lieutenant before his death which is given as 1862. The date we know to be in error, as he served as a scout for General Stuart in 1864 and was probably killed during the Wilderness campaign.
With his three older brothers fighting for the Confederacy in the 4th Virginia Regiment, it was inevitable that John Calhoun Colvin would join the same regiment before he reached his eighteenth birthday in December 1863. He is known to have served as a scout for General Wade Hampton, in whose division his brigade served after General Stuart was killed 12 May 1864, at Yellow Tavern. Later he was a courier for General Galbraith Butler, who commanded General Hampton's much reduced division at the war's end.
It was John Calhoun Colvin's sad duty at the and of the war to return to "Hazelwood", to piece together the shattered remnants of his home and family. On the 26th of November 1872 he married Lizzie McCoy of Faquier, whose indomitable North Irish ancestors had also fought a grim battle for survival, bolstered by their staunch Calvinist faith. They had eight children, of whom two died in infancy.
John Calhoun Colvin was an excellent farmer and "Hazelwood" bloomed and was prosperous during his lifetime. When he died, 16 February 1921 his three sons and one married daughter had sought their fortunes elsewhere. He left "Hazelwood" to his eldest unmarried daughter, Florence May Colvin, who operated the farm and made a home for her aged mother. Lizzie (McCoy) Colvin died 14 January 1939. Read her obituary written by Florence
Once, long ago, when her youngest child, Caine Alice Colvin, lay dangerously ill, Lizzie Colvin, who had just lost another daughter in infancy, promised that, if the Lord spared her He might have her for His work. She recovered and, true to that promise Callie Colvin spent nearly thirty years in dedicated and fruitful missionary work that ranged up and down the Atlantic seaboard. At a time when there was no welfare to meet the needs of the destitute, her efforts often provided necessities without which many might have perished.
In 1948 the farm was more than her sister Florence could manage alone and, to save "Hazelwood", with its great tradition and matchless heritage, Callie Colvin came home. Through her untiring efforts it still stands and, it is to be hoped, will do so for many years to come.
View, download, or save the pdf (1.8mb) version of the original report written by T. Triplett Russell.
Modern Day Update
One of John Calhoun Colvin's sons married in 1904. He then moved to a 125 acre farm in Stafford County and made a decent living and family. In 1936 his four sons bought a 506 acre farm near Nokesville. The entire family moved to this farm where two of his children would live for the rest of their lives. Read about it and see pictures of the family and letters written by the family on the Colvin Family Farm page of this website.
Hazelwood still exists, it's not being lived in but it's standing and still surrounded by 321 acres of open fields currently being used to grow sod for the ever developing Northern Virginia area. Following Callie's death in March of 1981, Hazelwood passed down to two of her cousins. They almost immediately listed it for sale and in April 1982, Lawrence Joyner bought the property. Following Lawrence's death in March 1999 the property passed to his two sons and has been under their ownership ever since.