White Hall Presbyterian Church Cemetery
Narrative
Researched and written by Charlotte Cain, December, 2015.
This cemetery once had a small church just west of the cemetery. The congregation moved to Greenwich Church around 1910. The church stood until the 1940s according to local neighbor, Virginia Kidd.
The cemetery located at 12814 Aden Road near Nokesville is the cemetery belonging to the First Prince William Church or the First Presbyterian Church of Prince William County, Virginia.
In 1848 the families of Messrs. Hornbaker, Rube and other Presbyterians having moved from Pennsylvania and New Jersey, requested the organization of a church in the Nokesville area. The Presbytery of Winchester appointed John M. Henry and George W. McPhail to this task. On Sept 12, 1850 Mr. Henry reported the organization of the First Presbyterian Church of Prince William County, with 27 members in 1851. The Minutes of the Presbytery do not note the date of the erection of the church nor its location.1 2
Chancery records for Prince William County viewable through the Library of Virginia online, state that:
"...about the year 1851 one Mrs. G. Kline conveyed to the First Presbyterian Church of Prince William County a certain lot or parcel of land... that shortly after the said conveyance a church building was erected thereon and named the First Presbyterian Church of Prince William County..."3
A check of the deed books for 1850-1873 has not found a deed conveying the land. It is possible that the deed was recorded in Deed book 22 (1852) which has many missing pages. Nourse's book on the Presbytery of Washington City, states that the grounds and cemetery lot were the donation of a Mr. Thatcher of New Jersey.4 No deeds or other records have been found to substantiate this statement.
The land purchased by Mr. Godfrey C Kline and his wife Mrs. Mary A Kline, was platted and overlaid on a modern parcel map.5 (Figure1). The cemetery in question is firmly located on the land owned by the Klines in 1851. Mr. Godfrey Kline is the oldest know burial in the cemetery. His death occurred on 22 Feb 1852. His marker was erroneously read as 1832. Mrs. Mary Kline is also buried in the cemetery.6
Edward Kennedy was ordained in April of 1851 but not installed. Andrew M Hershey succeeded Mr. Kennedy in 1855 and the church was passed to the Presbytery of Potomac in 1859. At that time it had 50 members.7 Following Mr. Henry, Rev. Thomas Balch sustained the services until the outbreak of the war.
During the Civil War, many of the members of the First Presbyterian Church fled the area and the church was closed. Fortunately Mrs. Kline did not leave, as it was due to her efforts that the church was not completely destroyed by fire.8 She managed to save both the pews and the communion service.9 In the fall of 1866, there was a request for serves to be renewed by the Presbytery of Potomac. Rev. J. E. Nourse resumed services, preaching in the home of Mrs. Rube, a neighbor of Mrs. Kline. The following spring the building was repaired.10 The Alexandria Gazette in June of 1873 noted that the citizens of Nokesville had given the church a much needed refurbishing. They whitewashed the church and repaired the cemetery fences. The addition of a choir and Sunday school hoped "to add greatly to the elements of religious and social order in that community."11 Services were held every Sunday.
In 1875 Rev. Mr. Carmichael became the stated supply and was succeeded in 1878 by Rev. F M Todd. By 1888 it was down to 16 members.12 By 1889 most of the members had died or moved away. At the meeting on 24 Dec 1890, Mr. John G Reading, Mr. W. S. Swayzee, and Mr. John B. Slaughter, were elected trustees of the Church. It was also decided by the congregation that the church be closed and:
" ...whenever the church property of the First Church of Prince William Co can be sold to an Evangelical denomination which will put themselves under obligation to take proper care of the graveyard it be sold & that the proceeds be given to the Presbyterian Church of Manassas. Also that the organ be placed in the hands of the Greenwood Ch. & the other furniture in the hands of the Presbyterian Ch. of Manassas..."13
The church was closed and unoccupied since that time and on 6 Apr 1897 Rev. James M. Nourse was appointed by the Presbytery of Washington City as special commissioner to sell the church. A petition was granted by the court for such a sale to occur.14
The Beginning of White Hall Presbyterian Church
In April of 1900, Alexander Ewing McMichael, Mattie May McMichael and Lera Bodine, all near the city of Nokesville, where assigned to membership in a new Presbyterian Church to be organized near Nokesville.15 In September of 1900 The Chesapeake Presbytery held its meeting at the new Whitehall Presbyterian Church in Nokesville, W. J. Bell was the ruling elder.16 From the minutes-
"Rev. Dr. Brooke, chairman of the Commission to organize the new church at Whitehall, reported that the Commission had duly organized the church on the 20th day of May, 1900, and the church was received and Elder W. J. Bell enrolled as a member of this Presbytery from said church."17
Dr W. J. Bell, A. J. McMichael, R. S. L. Avery and D. E. Earhart were elected as elders. [McMichaels, Avery and Earhart were past members of the First Presbyterian Church.]
The church struggled with enrollment for the next ten years but managed to contribute $5 to the treasury most years. At the meeting of the Chesapeake Presbytery in April of 1910 there was some concern about the legal status of the Whitehall Church property. It was ordered that it be looked into and a report made. Dr. Bell meanwhile was lobbying for a church to take over the Prince William County Court house.18 At the next meeting of the Presbytery in Sept of 1910 the status of Whitehall property was reported and the church was ordered to be dissolved, with the members transferred to Greenwich Church.19
The sale of the property is recorded on 14 May 1910 at which time James M. Nourse sold the 1 acre of land to E. D. Earhart and A. J. McMichael as trustees for the Whitehall Presbyterian Church.20 21 The land tax records show trustees of Whitehall Presbyterian Church in 1911-1912. A check of the tax list for 1913-1915 does not show Whitehall Presbyterian although other churches are listed. No deed has yet been found of Whitehall Church selling the land. The current electronic land tax records extend back to 1995. Further research will be needed to discover the property's disposition between 1913 -1995.
It bears noting that most of the burials in the cemetery occurred between 1852 and 1900, during the time that the First Presbyterian Church of Prince William County was in possession of the land.
Figure 1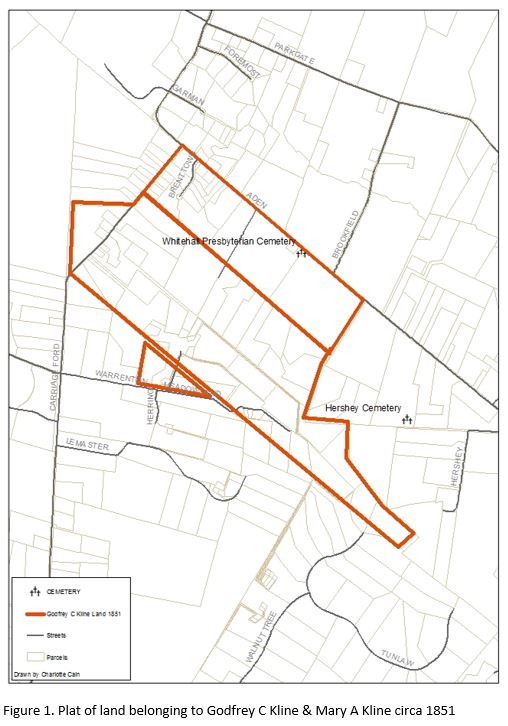 1 A History of the Presbytery of Winchester (Synod of Virginia); Its rise and growth, ecclesiastical relations, institutions and agencies, churches and members, 1719-1945. by Robert Bell Woodworth, p 208. Published by Staunton, Va., McClure Print. Co., 1947.
2 The Presbytery of Washington City and the Churches under its care, by Joseph Everett Nourse. Pg 70-71. Published 1888 Washington: Gibson Bros., Printers and Bookbinders.
3 Petition of Presbytery Church of Washington City; Library of Virginia Chancery Records for Prince William County, Virginia. Chancery Case index no.1897-023. Image no. 8
4 Nourse, p70.
5 Prince William County, Va. Deeds, DB21p304, DB23p218, DB28p575
6 White Hall Presbyterian Church Cemetery - Prince William County Cemeteries, by Ron Turner.
7 Woodworth, p209.
8 Nourse, p71.
9 A Brief History of the Presbyterian Church, Manassas, Virginia, by Gladys D Bushong. Special Collection Case, RELIC, Bull Run Public Library. Pg5.
10 Nourse, p71.
11 Prince William County, Va Newspaper Transcriptions 1865-1875, by Ron Turner. P190- Alexandria Gazette, 14 June 1873.
12 Nourse, p71.
13 Petition of Presbytery Church of Washington City; Library of Virginia Chancery Records for Prince William County, Virginia. Chancery Case index no.1897-023. Image no. 4
14 LVA Chancery Index no. 1897-023. Image 10.
15 Minutes of the Chesapeake Presbytery, 12 April 1900, pg59. Presbyterian Church in the Presbytery of Chesapeake Minutes 1884-1911. Presbyterian Historical Society, 425 Lombard St, Philadelphia, PA. (microform)
16 Minutes of the Chesapeake Presbytery at Nokesville 4 Sep 1900, pg1.
17 ibid, p69.
18 Minutes of the Chesapeake Presbytery Apr 1910, pg52.
19 Minutes of the Chesapeake Presbytery Sept 1910, pg81.
20 Petition of Whitehall Presbyterian; Library of Virginia Chancery Records for Prince William County, Virginia. Chancery Case index no.1910-018.
21 Prince William County, Deeds – DB59 p474
This is a picture of Anne Kidd in the 1940s near Nokesville, Virginia. In the distance is White Hall Church that was used between 1900 and 1910. This is the only known photo of the church. Photo provided by Bobby Kidd.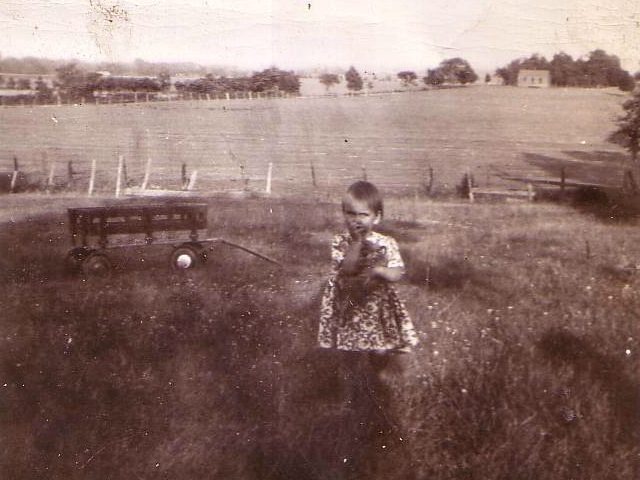 In this aerial image from 1937 you can see the church near the top of the dark wooded area.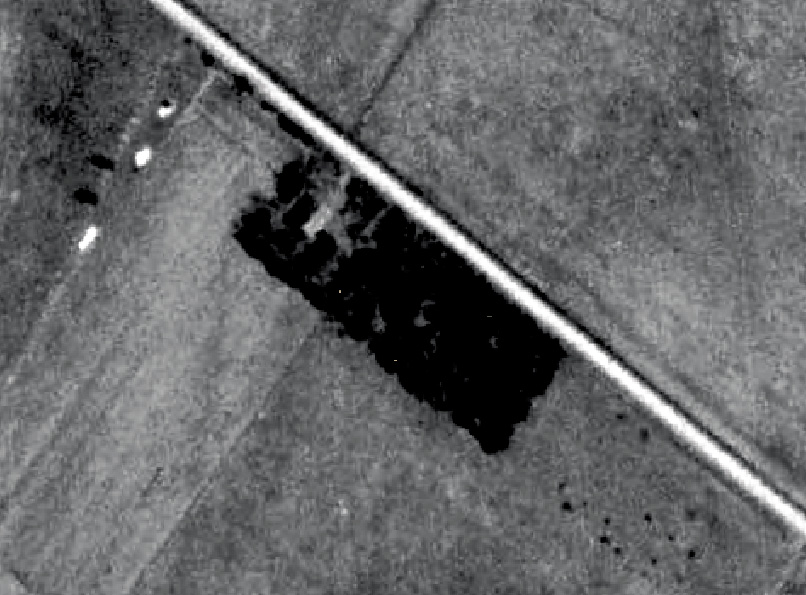 Survey Details
Classification:
Religious
Status:
Maintained
Condition:
Very Good
Approx. Size:
120 x 220 feet
Approximate Number of Burials:
100
Markers:
Tombstone, Fieldstone, Unmarked
Surnames Listed on Markers:



Burdge, David 4 Mar 1802 - 2 Sep 1894
Burdge, Mary E. w/o David 12 Aug 1802 - 13 Mar 1864
Day, Annis Marie w/o L. D. 12 Sep 1849 - 24 Apr 1881
Elliott, Edward B. 2 Sep 1831 - 17 Aug 1903
Elliott, Florence Jackson born 5 Feb 1866 - 3 Mar 1882
Free, Clarinda. d/o W. R. & L. V. died 2 Jul 1884 age 24 years
Hazen, Charles W. 12 Jul 1828 - 13 Sep 1898
Hazen, Elizabeth S. w/o L. H. died 5 Sep 1863 age 67 years
Hazen, Rev. Levi H. died Oct. 1862, aged 71 years?
Hazen, Mary Colvin w/o Charles Wesley 22 Dec 1842 - 15 May 1904
Hazen, Rebecca C. w/o A. H. died 24 May 1862 36 years
Kline, Godfrey C. 22 Feb 1832 age 52
Kline, Mary A. died 24 Nov 1876 age 73 years
Loder, Hattie B. d/o David & Mary Burdge died 21 Nov 1870 age 26
Osmun, Francis R. w/o Caleb H. 21 Jan 1825 - 2 Jun 1857
Patten, Mary A. died 1871 age 19 years
Perry, Horace Smoot s/o H. & Virginia 7 Apr 1875 - 19 May 1903
Perry, J. D. - not legible
Sage, Annis K. 6 May 1812 - 25 Feb 1879
Slack, Cornelius D. died 6 March 1858 66 years of his age
Smith, Adalaide or Ada Lilly d/o C. W. & Mary C. Hazen 14 Jan 1871 - 25 Sep 1904
Stewart, Alice child of C. L. & Elizabeth
Stewart, Elizabeth w/o William K. 11 Mar 1858, age 55 years
Stewart, W. K. died 24 Feb 1874, 75 year of age
Stewart, Willie 1850 - 1853 s/o Charles & Elizabeth
Studds, Mary A. Patten w/o Jacob, d/o John, died 1871 in her 19th year
Underwood, Sarah L. d/o J.& C. Warner, wife of Ira G. 8 Sep 1840 - 24 May 1881
West, Bessie, Infant, d/o G.W. & Lizzie L. died 29 Mar 1873 aged 9 months, 22 days
Wilkes, Stephen E. 1834 Alabama, 24 Aug 1861 C.S.A.
Wolverton, E. F. 6 Oct 1856 - 2 Nov 1859
Wolverton, M. E. 4 Jun 1848 - 6 Oct 1854


Comments:
None
Surveyed By:
Ron Turner - May 11, 2001
Latitude / Longitude:
38.6735116, -77.5654426
Earliest Burial Date:
1832
Latest Burial Date:
1904
Site Visits
| Visited by: | Date: | Comments: |
| --- | --- | --- |
| Susan R. Morton | July 1, 1937 | This old cemetery which covers considerable area, is so overgrown with vine and underbrush and surrounded by tall cedars that it is possible to pass right by it without realizing that it is there. By pushing through the underbrush about 50 feet to the left of the church ruins, the old stones can be seen often knee deep in honeysuckle and periwinkle. (Morton copied 25 inscriptions but noted "there are many stones that the lettering is obliterated, or there never has been any inscription whatever, usually on what appear to be the oldest markers") |
| E.R. Conner III | Sept. 30, 1979 | Cemetery is legally reservied but has not been maintained for many decades. Barbed-wire fence in good repair encloses lot, but cattle have apparently entered cemetery in past and trampled many markers. Small animals have also burrowed into many graves and the entire ceadar grove is overgrown with small trees, briars, and hoeysuckle. Additional stones could undoubtedly be found here by probing the earth; many found by the author were partially sunken. (Conner noted 23 graves) |
| Kevin M. Johnson | 1990 | Eagle Scout Project (Troop 670) led by Kevin Johnson cleaned up this cemetery. |
| Ron Turner | 1991, 1995 | None |
| Robert Moser | 2013 | Robert Moser began cleaning the cemetery. Clearing brush and debris, uprighting the markers, and drawing a map of the locations of the markers. |
| Jamey Bocompani | 2015 | Eagle Scout Project (Troop 670) led by Jamey Bococompani insalled 230' of split rail fence along Aden Road and built four benches for this location. |
| Historic Prince William Cemetery Committee | Nov. 2015 | Members of the Historic Prince William Cemetery Committee held their first meeting at this cemetery. Attendees included Ron Turner, Bill Olson, Robert Moser, Jeff Irwin, and David Cuff. |
| Historic Prince William Cemetery Committee | Nov. & Dec. 2015 | Members of the Historic Prince William Cemetery Committee have been doing a lot of repairs and resetting of markers at this location. |
| Historic Prince William Cemetery Committee | Oct. 2017 | The last four headstones that needed repair and resetting were completed. |
Files
Kevin Johnson Eagle Scout Project Report, 1990. (pdf)
Civil War Era Notes on the Jersey Settlement, Prince William County, Va.
Images
Map